Disneyland: The First Christmas
by Todd James Pierce
Christmas at Disneyland is now big business, with special parades, shows and rich theming throughout the park.  A massive live Christmas tree occupies Town Square, and the castle has a flashy overlay of electronic icicles and cottony snow.  But back in 1955, the Christmas decorations were far less elaborate.  Though the park enjoy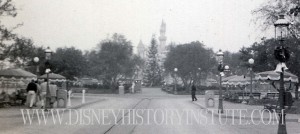 ed a few prosperous weeks during its opening summer–that is, when the heat was below 85 degrees–attendance during the fall was a bust.  On some days park attendance was only a few hundred people.  One first-year employee, Ron Dominguez used to joke that, on most days "you could shoot a cannon through most areas and not hit anybody."  In 1955, Disneyland Inc. was a company separate from Walt Disney Productions and couldn't easily draw on studio assets to shore up its operational budgets.  So with limited revenue, the park simply could not afford a large Christmas celebration.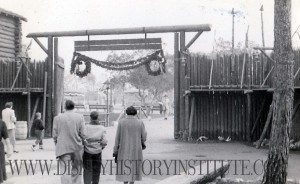 Decorations throughout the park were sparse.  In 1955, the Hub–not Town Square–received the first tree.  A few wreaths were hung on and around the castle, with a strand or two of garland completing the scene.  On the entrance drawbridge, the summer two-tone banners were swapped out for darker ones that better paired with the winter season.  The entrance to Frontierland was also festooned with a little Christmas greenery.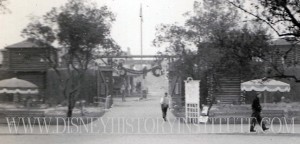 The largest holiday area that Disneyland Inc. itself arranged was the Christmas Bowl, which was a simple re-theming of its outdoor stage.  Surrounded by a few artificial trees, the Bowl featured choirs singing Christmas carols, an event that was the precursor to the modern Candlelight Ceremony and Processional.