Happy Birthday President Carter
October 1, 1924, Jimmy Carter, the thirty-ninth United States President, was born in
Plains, Georgia. He is the first president to be born in a hospital.
In 1976, President Carter appeared at Disney World for the International Chamber of Commerce 26th
Conference and Convention. His speech was made in front of Cinderella Castle. The
private event coincided with Disney's debut of concept art for EPCOT Center.
In February of 1980, President Carter issued Proclamation 4725, declaring a national day to honor Walt Disney.
In May 1982, Carter became the first U.S. President to take a "running tour" of
Disneyland when he jogged through the Magic Kingdom prior to the public opening time.
   Visit him and all the U.S. Chief Executives at Disney World's The Hall of Presidents.
Proclamation 4725—Honoring the Memory of Walt Disney
February 19, 1980
Jimmy Carter
1980-81: Book I
Font Size:
The American Presidency Project

Promote Your Page Too

By the President of the United States of America
A Proclamation

In the world of entertainment no name is more widely known than that of Walt Disney. For nearly fifty years, his creations brought us laughter and love, joy and gladness. The products of his imagination will enthrall and delight many more generations of children of all ages in every country on earth.

The House of Representatives, by a joint resolution of February 13, 1980, has requested the President to issue a proclamation honoring the memory of Walt Disney for his contribution to the American dream.

Now, Therefore, I, Jimmy Carter, President of the United States of America, do hereby call upon the people of this Nation to recall the accomplishments of Walt Disney and to honor his memory on February 19, 1980.

In Witness Whereof, I have hereunto set my hand this nineteenth day of February in the year of our Lord nineteen hundred and eighty, and of the Independence of the United States of America the two hundred and fourth.

JIMMY CARTER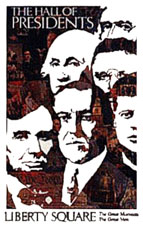 All of the U.S. Presidents are forever immortalized at Disney in the Hall of Presidents. CaribbeanDays, an Authorized Disney Vacation Planner, can take you here!

——————————————–
Online Grocery Service
St. Maarten/St. Martin New ShopnDrop Online Grocery Service Service for Villas, Resorts, Yachts and Vacation Rentals in St. Maarten
Advertise
Give a Gift of Adventure! Gift Certificates for Tours!
CaribbeanDays
is proudly partnered with
Royal Coachman Worldwide
and
Enterprise, Alamo and National Car Rental Services
.

CaribbeanDays.com, LLC is proudly partnered with Project Expedition