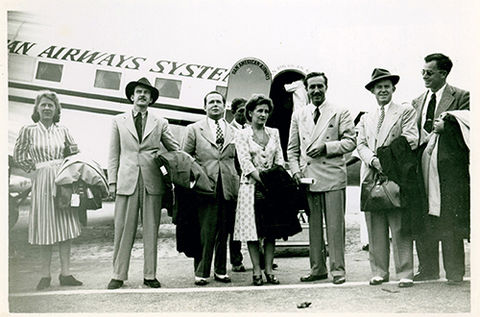 In 1963, the sights and sounds of America's neighbor to the south were on display at Disneyland. The eastern branch of the alleyway that runs perpendicular to Main Street U.S.A., commonly called Center Street, became home to the Park's "Salute to Mexico" celebration. Sponsored by the Mexican Tourist Council in collaboration with People to People International—an organization founded by President Eisenhower with support from leaders of industry, academia, and the arts (including Walt Disney)— the festive event celebrated Mexican culture—from pottery to bullfighting to contemporary art—for over a month. The Pasadena Star-News described it as, "a beachhead based on friendship and mutual understanding." Piñatas and Mexican flags swayed above as mariachi bands played upbeat music below. Ladies in flamboyant dresses danced for the gathered crowds outside of the Swift Market House. Walt Disney himself was on-hand for the opening ceremonies, sporting a rather large sombrero. This Disneyland celebration of Mexican culture was just one in a series of personal connections Walt shared with America's southern neighbor. One such connection occurred twenty years prior to this event, when Disneyland was not yet a point on a map, and the United States was dealing with—but had not yet entered—the turmoil of the Second World War.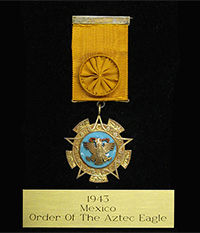 On August 30, 1943, Walt received the Order of the Aztec Eagle. This award had only been established a decade before as the highest honor a foreigner could receive from the Mexican government. With co-founder of the MGM Studios Louis B. Mayer, Walt went along to Mexico City on August 24 to receive their medals directly from Mexican president Manuel Ávila Camacho. The award honored those who have made a great contribution to Mexico, in particular or humankind in general, and focused on Walt's efforts to foster beneficial international relations with Mexico. Two years prior, in 1941, Walt had traveled with a hand-selected group of his artists through Latin American countries as part of Franklin Delano Roosevelt's Good Neighbor Program. Working with the office of the Coordinator of Inter-American Affairs, Walt's team met presidents, artists, and common folk alike while developing stories and artwork for animated films based on the culture and landscapes of the nations they visited. This traveling party, which became known by the name "El Grupo," spent the bulk of its time in South American countries like Brazil and Argentina. Part of the group made their way through Mexico on the return trip home. This contingent included Mary Blair, who was busy developing her distinctive artistic style and was influenced heavily by the vibrant culture and people of the region. The resulting feature-length film Saludos Amigoswhich premiered in Rio de Janeiro in 1942, derived its subject matter primarily from El Grupo's experience in South America, but Walt still had another feature in the works that would give Mexico a starring role.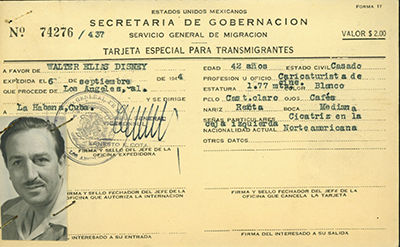 Later in 1942, Walt, Mary Blair, and a few others took an additional short research trip to Mexico to gather material for a second film, The Three Caballeros, which premiered in Mexico City on December 21, 1944. This film featured the duo of Donald Duck and Brazilian parrot José Carioca from Saludos Amigos, and added Mexican charro rooster Panchito. The film showcased live-action highlights from various locations around Mexico, including Acapulco and Veracruz. The Mexican magazine Tiempo described Walt as having brought a "world of friendship and understanding to the people of all countries."
In 1963, as Disneyland presented its cultural showcase, Walt received another honor from Mexico. The Institute of Cinema Culture at the Ibero-American University presented Walt with their Onix Award of Merit for his cinematic achievements. This private Jesuit college had been established twenty years before, back when Walt received his Order of the Aztec Eagle. While Walt himself had no formal education beyond his freshman year of high school, he continually received awards from institutions of higher education acknowledging his influence on the world.
Other Mexican awards came over the years, including a certificate from the Masonic Lodges of Mexico and the key to the city of Guadalajara. Ultimately, Mexico joined the world in mourning the loss of Walt Disney on December 15, 1966. The grateful nation produced a sculpture in honor of Walt and the many gifts he had given to Mexican audiences. This final tribute to Walt represented the long and fruitful relationship shared between the movie producer and America's neighbor to the south.